We've been honored to work with our long-time client, Salt Lake Acting Company (SLAC), to redesign their website with a goal to be welcoming, inclusive, and accessible to all. Making things different and better than they currently are requires compassion paired with action, and as an organization, SLAC has re-committed to prioritizing diversity, equity, and patron accessibility. Just like people, abilities vary widely, so we took a holistic approach, placing accessibility at the forefront of the design process.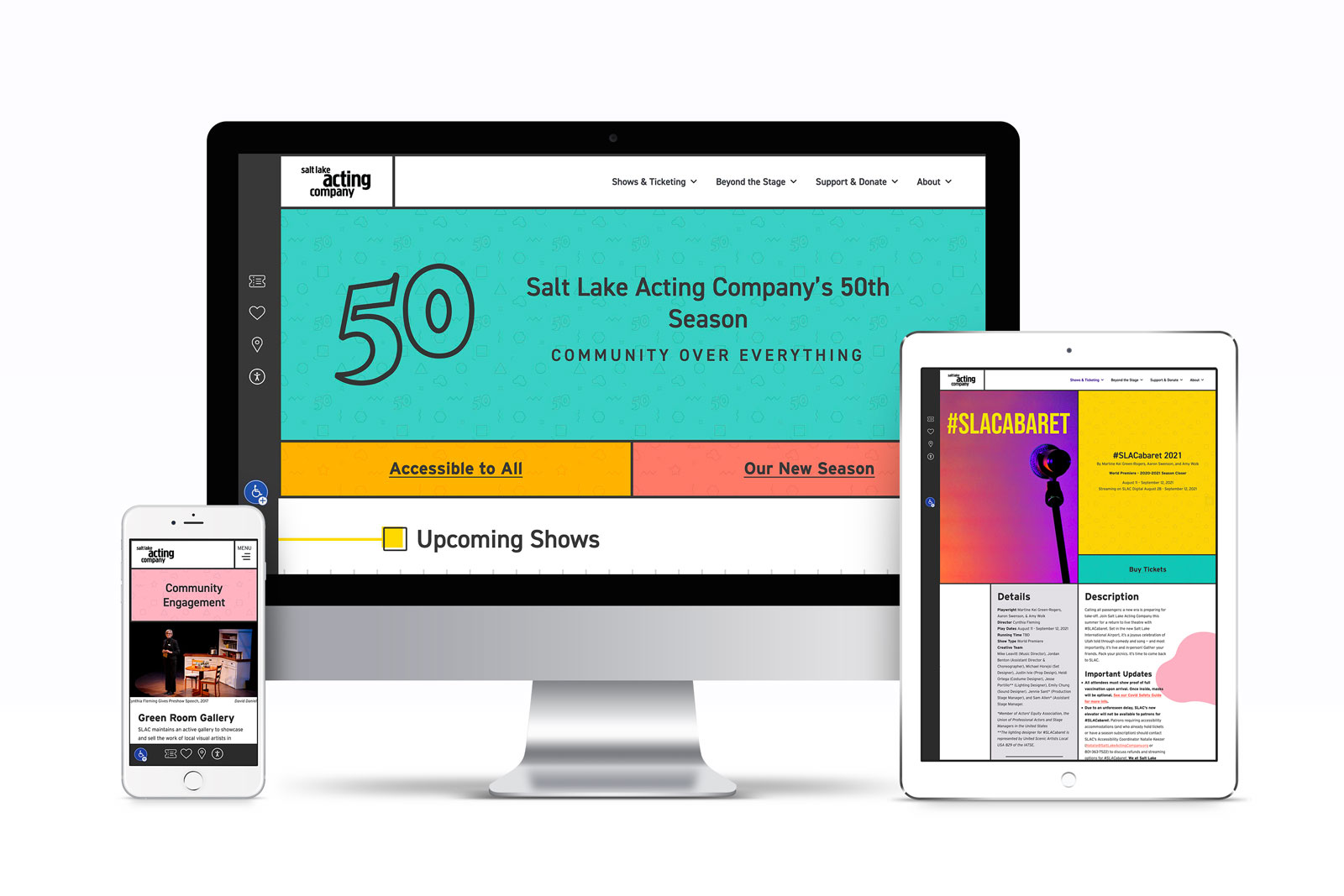 At Third Sun, our overarching goal is always to communicate clearly with people by designing user-friendly websites with an eye toward inclusivity through the choices we make around elevated messages, imagery, and page layout. Although we have designed several websites with accessibility considerations over our 16 years in business, those were mainly for organizations that had unique audiences that included a large percentage of people with disabilities. In the past, a site with a focus on accessibility had to compromise on style as requirements conflicted with existing design trends. It was often difficult to meet client expectations for visually-dynamic designs while also meeting best practices for accessibility.
Fortunately, over the last several years, best practices for good design and accessible design have started to merge together. Good design IS accessible.
For this project, we set a higher standard for ourselves to START with accessibility, trying to match SLAC's energy and commitment to this goal. Our team researched accessibility best practices and guidelines and took inspiration from their building renovation plan (being done by the talented City Home Collective) to create a digital space that would complement their physical space. We also sought out good examples that we could learn from, which was actually tough to find among arts organizations perhaps because it's assumed that the audience is all able to "see" the same things, but we landed on several museum websites that recognize the importance of patron accessibility, not just physically but also digitally.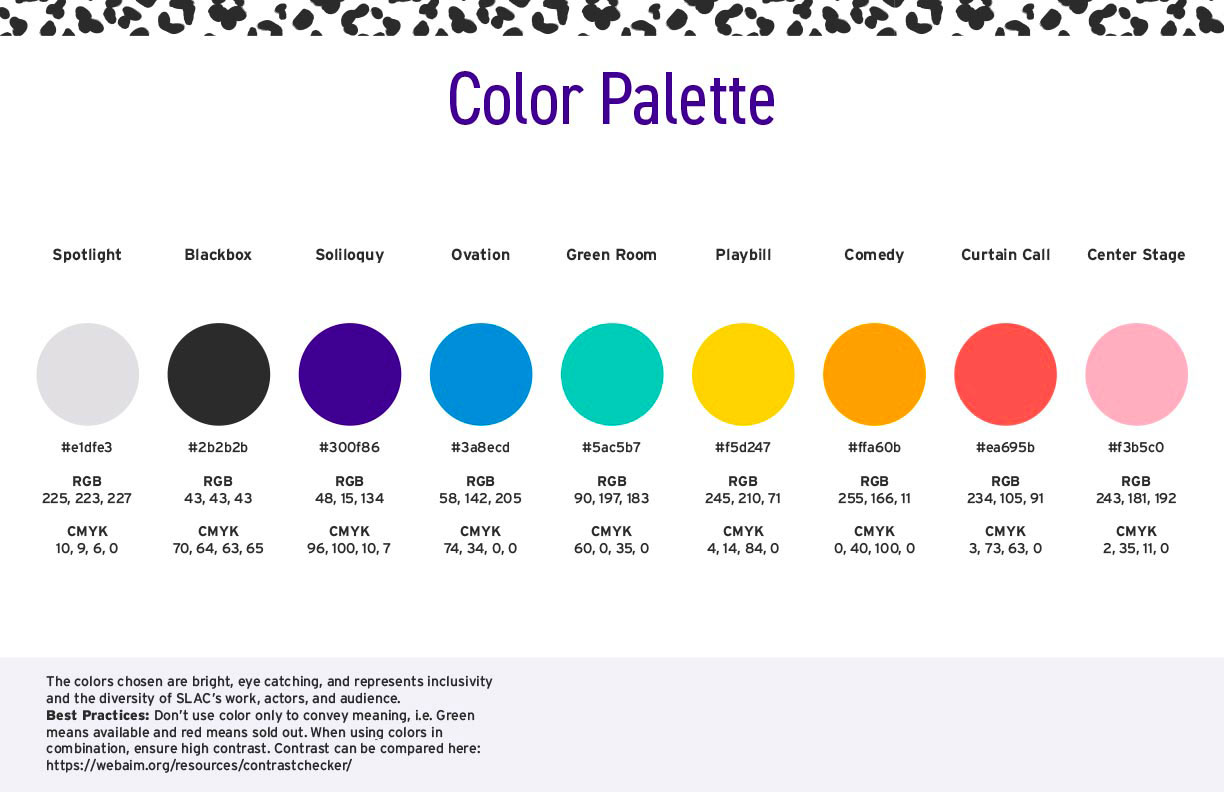 Although before we started we knew that good design should be good for everyone, we also knew we could be more intentional around our choices. We had many discussions as a team, talking through every aspect that would make or break the experience for users who may not experience website content the same way as most people — color palette combinations, contrast, readable fonts, reducing the reliance on images to convey information, user-friendly menu navigation — while still designing something that would encapsulate the colorful, energetic, and creative qualities that everyone has come to expect from Salt Lake Acting Company. We also wanted to incorporate a more recent shift in web design to not lead with moving elements to help page content load more quickly, creating a better overall user experience while also keeping the search engines happy.
SLAC's Audience Relationship and Accessibility Coordinator, Natalie Keezer, also informed our process by sharing her priorities, including the measures SLAC is implementing in the theatre, so that we could ensure our messaging around accessibility was consistent.
We were also careful not to unwittingly "accessibility-wash" through what might be considered a nice but lazy attempt to use a trendy accessibility widget. After an internal debate about its value and use (since our design already covered the major issues the widget might cure), we ultimately decided that the accessibility widget could provide some consciousness-raising among all audience members around this issue as well as fill in any additional gaps for users.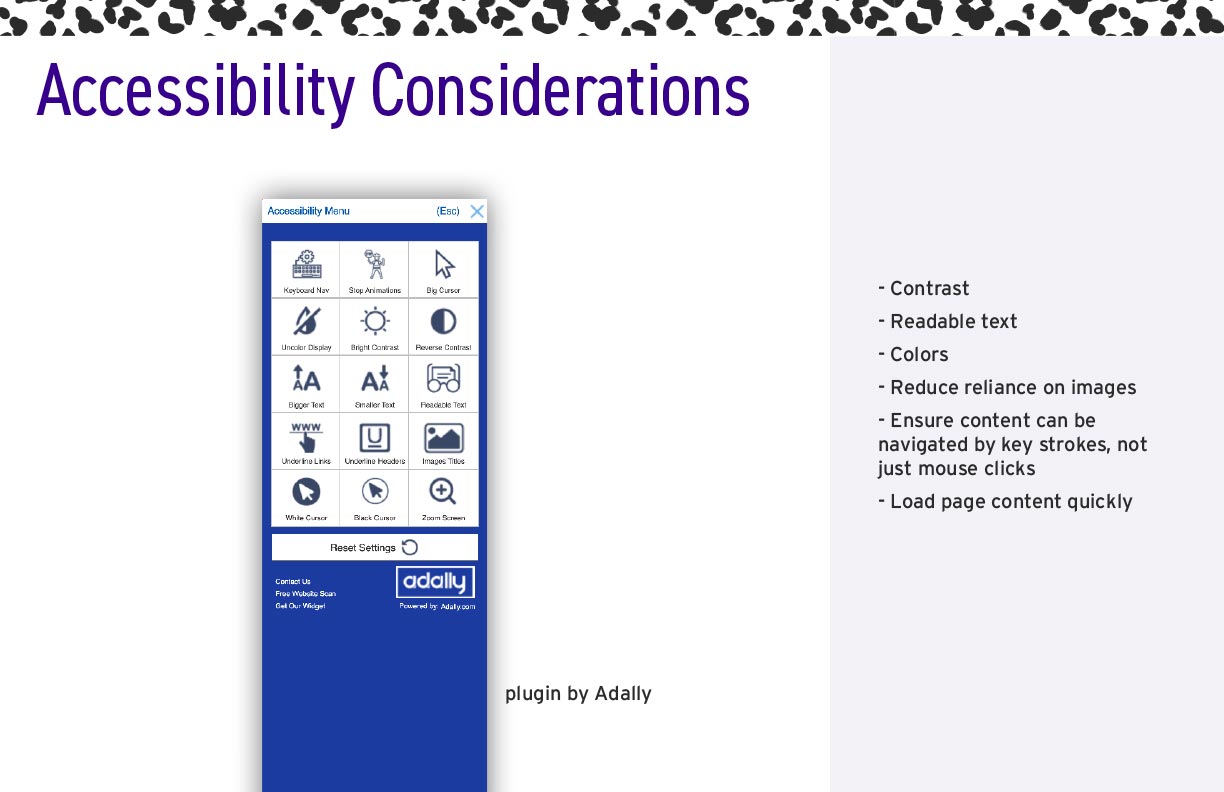 Although we tested aspects of the design along the way, we also reviewed the design with web browser accessibility tools and made additional iterations, double-checking navigation, page layouts, and formatting.
While we believe the new design meets the goal for a highly accessible and user-friendly website for SLAC's audiences, we know that the key to evolving and improving our sensibilities and compassion is to always be a bit humble in seeing this as a process, not necessarily a destination. In short, we've learned a lot and are working to educate other clients on the importance of taking a little extra time to step back, consider the needs of others, and take action accordingly.
As a team, we are proud to be part of and on this journey with Salt Lake Acting Company and many other businesses and organizations that are putting action behind their words.