Many years ago — almost our first year in business, in fact — we realized we needed a really good content management system to provide tools for our clients to manage the day-to-day updates on their websites. After reviewing the options available, we settled on Joomla and never looked back. Joomla has allowed us to affordably build websites with all kinds of features (donation forms, event registration, e-commerce, directories, calendars, and even CRM databases) while empowering clients to manage their content as best suits their needs.
Over the years, Troy and I have attended various Joomla Days and training events to help us always be evolving and learning. In November, we had the opportunity take our whole team to Vancouver, Canada, to experience the community of Joomla at the Joomla World Conference.
While our clients hopefully know some of the reasons why we use Joomla to build websites, the aspect we probably forget to tell them is how Joomla is essentially a community project supported by really passionate smart people throughout the world. (In the software world, this is known as "open source.") Their efforts make it possible for Third Sun to deliver a world-class content management system to our nonprofit and small business clients, and yet the platform is sophisticated and robust enough that many corporate-level companies use it to. We make financial contributions to the project and on occasion have had a chance to work with a Joomla developer to expand a tool or feature for Joomla based on our clients' needs, so in a way, all of you (our clients) support the Joomla community as well.
Aside from the training we received in Joomla, we also toured Vancouver together and survived four whole days together, which says a lot about our unique team that always works hard and plays hard.
Troy Gets Certified!
For more than ten years, Third Sun has been growing and evolving with the Joomla project. The Joomla World Conference was a great opportunity to refresh our belief in what we love about Joomla — 100% nonprofit, open-source, and volunteer-driven by people from all around the world who believe the web should be open and accessible to everyone — regardless of budgets and skill levels.
As a longtime Joomla user, I used the conference as an opportunity to take the exam for the Joomla Certification Program. Recently created, the Joomla Certification Program ensures the competence of Joomla professionals through documented measurement of skills and knowledge. Third Sun is proud to have Utah's only Joomla-certified professional, one of only six in the United States (that would be me, Troy).
The conference provided a sneak peek at some of the exciting enhancements and growth expected in the Joomla Project in the upcoming months and years. The leaders of the project remain committed to providing the most robust and forward-thinking open-source project out there. — Troy
Content Nuggets: Yum
In one of the sessions I attended, the speaker made the case that as web designers we should design the backend, Joomla, to support our client's specific content strategy. We do this with clients — it's part of the reason we ask you so many questions upfront. Joomla is incredibly adaptable and modifiable. So from the get-go, we customize and organize content based on how clients manage and input content, their staff resources and web know-how.
My favorite takeaway from this session used a food metaphor — nuggets! The speaker encouraged us to think about all of our content in nuggets — little bite-size pieces. Take something as simple as a staff bio: It could contain six or more nuggets of content including name, title, contact info, short bio, long bio, and picture. Depending on the design you may be able to display these pieces of content in different places on the website. You also may be able to re-purpose some of those nuggets for social media. Every time you draft a piece of content from a tweet to "About Us" there are likely multiple ways you can enjoy that nugget. — Johnnae
Now Brewing: Design Inspiration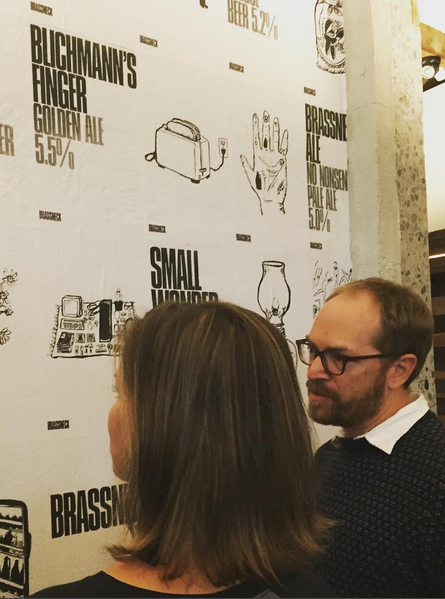 When we weren't busy with our fellow Joomlers, we explored Vancouver as a team. No matter where I go, I keep tabs on branding, design, style, architecture, etc., but usually it's usually a solo endeavor — or an annoyance to whomever happens to be with me. Traveling with the Third Sun team, it was a constant topic: the branding at Brassneck Brewery, Vancouver's smartly-designed bike lanes, and even the typography and colors on the walls at the Vancouver Art Gallery.
Because we're in the middle of project with the soon-to-open RoHa Brewing Project — and frankly because the beer in Vancouver was so good — beer branding was a particularly hot topic. We were all struck by the attention to detail and the distinctive qualities of each brewery. We expected more homogeneous design and style, but instead we got the gritty, bare-bones look of Storm Brewing, the blingy Strathcona Beer Company, and the striking interior and exterior design Postmark Brewing / Belgard Kitchen. No two looked or felt alike and each reflected either a particular neighborhood, or at the very least a thoughtful and well-executed design aesthetic.
Normally our work discussions are project-specific, so it was nice to let our minds wander and draw inspiration in a broader sense. No doubt our time and conversations from Vancouver will influence our work in the coming months. — Michael
In short, we returned from Vancouver feeling inspired, proud to be part of the Joomla community, and confident that after four days of travel together, our team can find a good beer (or beers) and find more ways to elevate our own local Salt Lake community.