Here at Third Sun we've been working with nonprofits since our inception in 2005. We amplify voices, refine messages to cut straight to the issues, and empower organizations to focus on their missions.
Our expertise comes from not only from years working with Third Sun's nonprofit clients, but every member of the Third Sun team has had personal, hands-on experience working or volunteering in the nonprofit world. These experiences give us valuable compassion along with insight into how the needs and structures of nonprofits set them apart from commercial endeavors.
A key part of understanding nonprofits is understanding the value and impact of how they communicate. If there's a specific cause within your organization that could be amplified or elevated, Third Sun can help you get the results you need.
In a recent project for Wasatch Community Gardens, we helped focus and streamline their messaging around a capital campaign to build their new campus. First, we identified their goals and audience, then utilized that information to craft a standalone page that delivers targeted and detailed information — why becoming a donor to the capital campaign is so important to the community — outlined in a clear, digestible way. This page is aimed to engage those interested in giving, providing grants, or larger gifts — to be used in place of something less useful or targeted like a pamphlet or link to their site as a whole.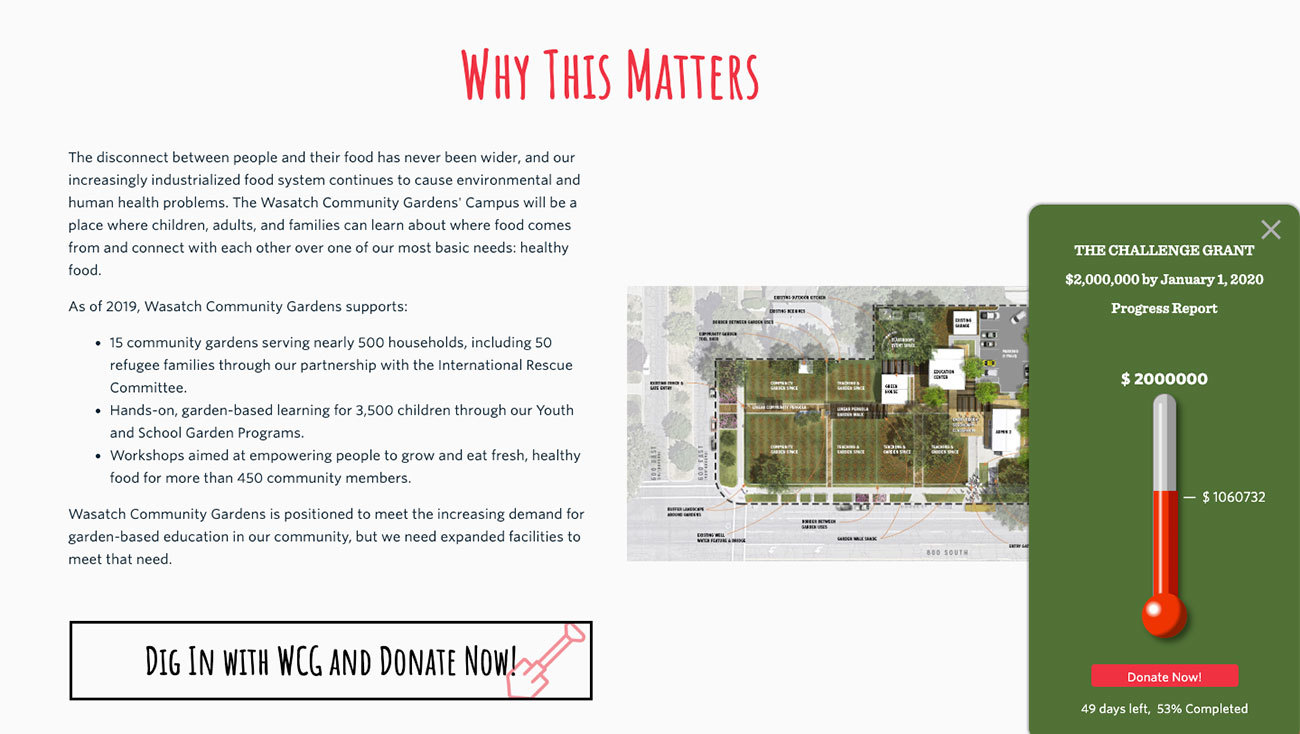 The tiers at wasatchgardens.org/dig make this case, explain the urgency of the challenge grant and goals, and create multiple opportunities for someone to follow the core call to action: Donate Now!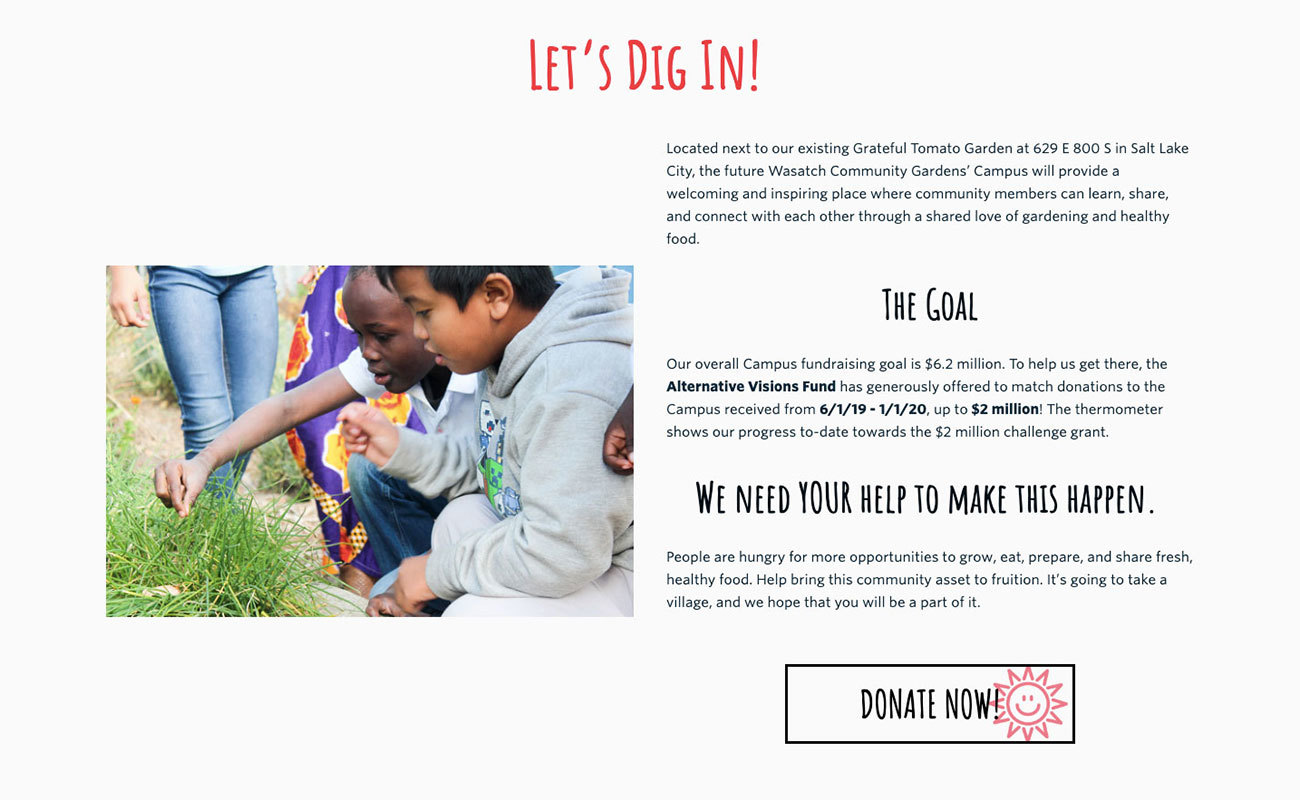 Another recently completed project was helping the University of Utah College of Fine Arts present their new strategic plan to their college community. Instead of a bulky, printed guide that wastes paper and may sit on a shelf or get tossed in a drawer, we created a microsite for the strategic plan — an interactive, visual, updated alternative that aims to ultimately be more functional for their current and prospective students and faculty.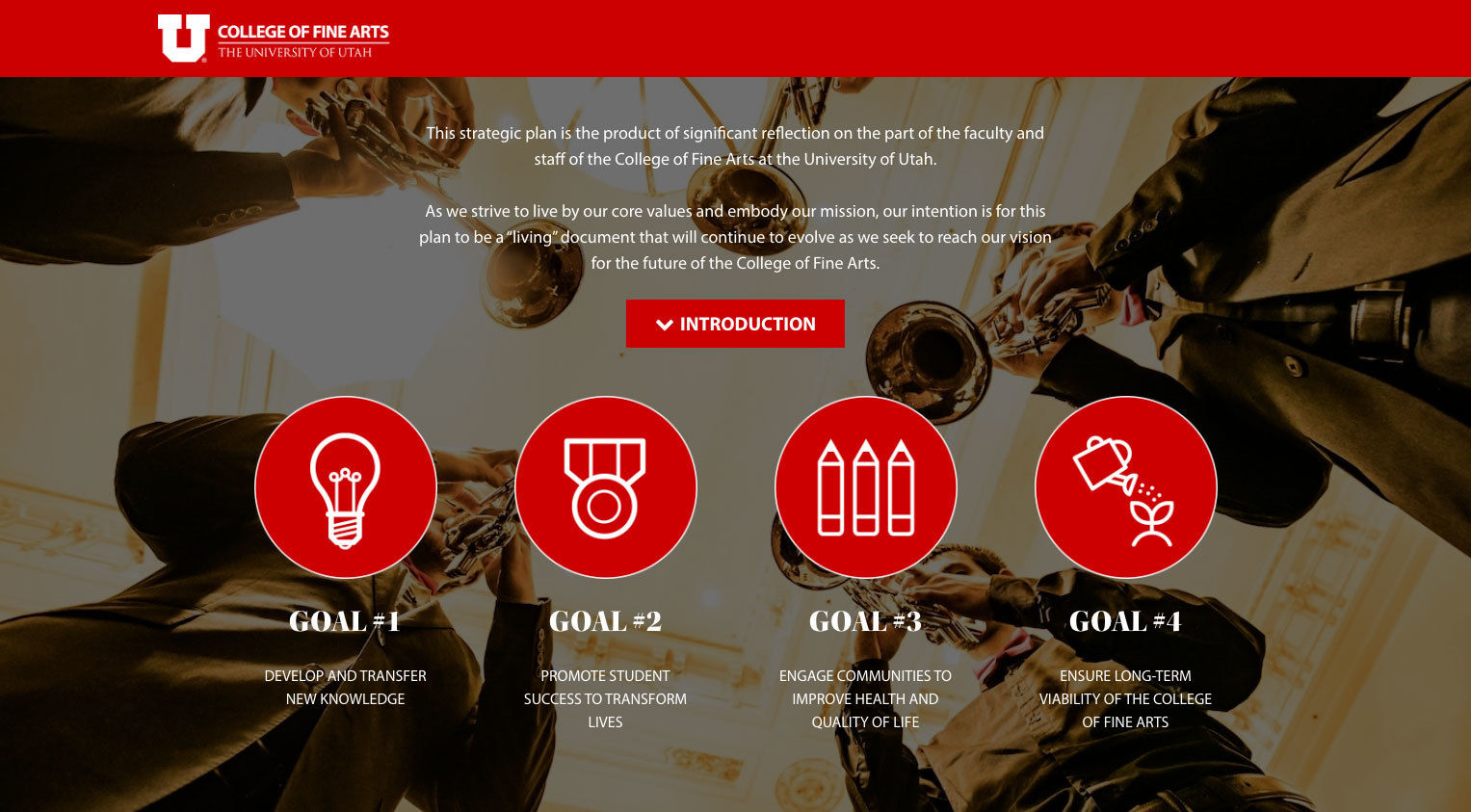 Blog entries about the College's activities that feed to pages within the strategic plan microsite demonstrate how they are fulfilling relevant objectives, ensuring the purpose of the document (to make forward progress) is not left behind. The plan is specific to their community and their voice, and can aid in signaling their vision and goals to people interested in joining the college.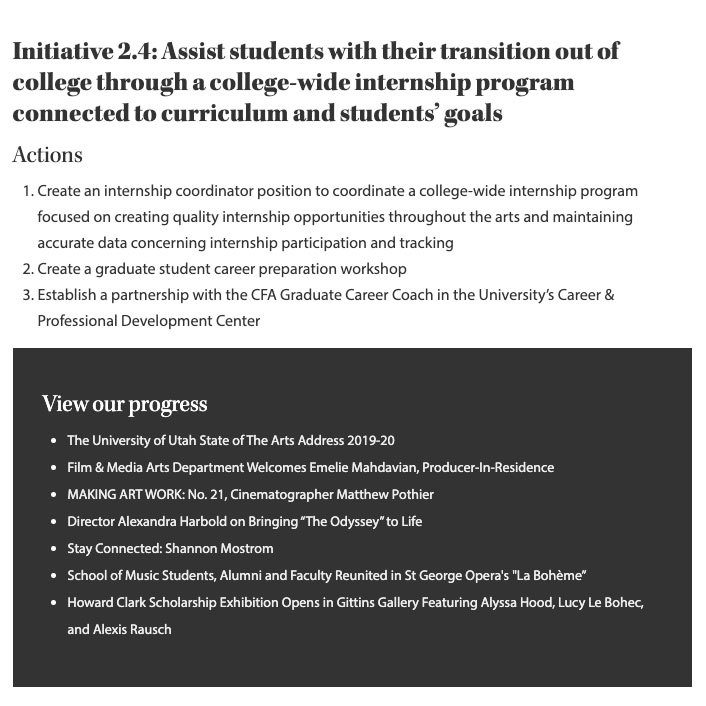 These two projects add value to our current clients' online communication tools. Specific situations call for tailored and customized approaches — where there's a need, let us help you design a plan and refine your narrative to achieve your goals.