For over 30 years, Fantasy Bridal has been helping Utah brides. Their goal is to be the shop for every bride — with a wide array of sizing and embracing brides looking for everything from modest styles to colorful fun. They've been a long time Third Sun client, and with new ownership came a new opportunity to partner on refreshing the website and branding.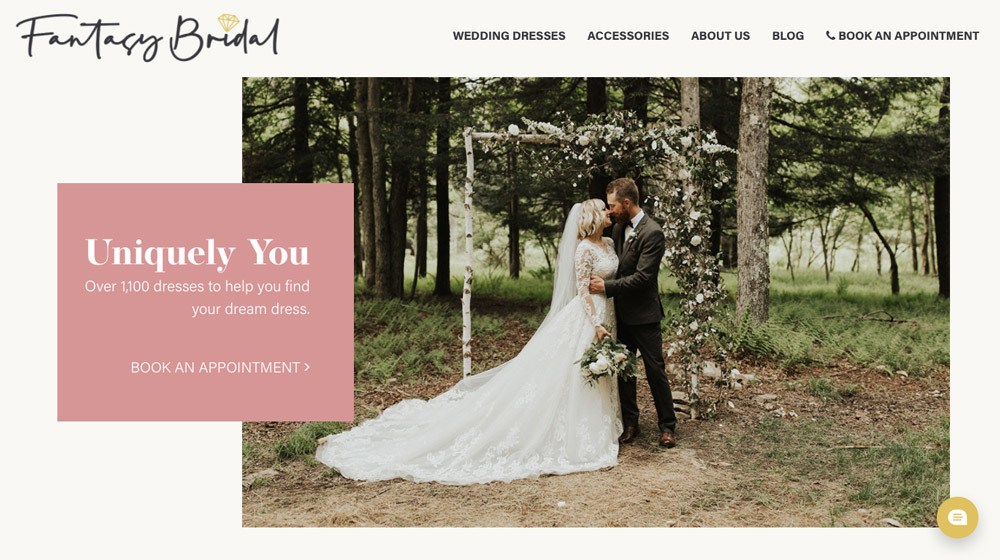 Like picking the perfect dress, picking the perfect branding is a commitment — it has to have the right feel, and fit the personality and voice of the company for now and into the future. The team at Fantasy Bridal drew inspiration from a bold and bright neon custom sign in the shop with a tone that says they're modern and vibrant, and our designer Delaney worked to capture the spirit and energy they were seeking. The new logo carries the fun and bold energy of their sign with custom touches. Playful elements from the logo and branding suite, like sparkles and gems, are carried through the site.


We redesigned the layout of their site to ensure that visitors can find exactly what they're looking for — whether it's booking an appointment or sorting through their extensive gown gallery. The design was revamped to showcase their voice and what makes them unique, with testimonials and an Instagram feed highlighting real brides' experiences.
The new website and branding makes it clear: Fantasy Bridal is modern, distinctive, and happy to help every bride have a wonderful experience.